CDP sits down with Jamie Allan, CEO at Allan Panthera, to discuss what the company exists to deliver to drone businesses around the world.
CDP: What is Allan Panthera as a business within the drone industry?
JA: We are a truly independent, global, and proven commercial consultancy that provides a suite of commercial services to any business which is involved or has an interest in drones, robotics or innovative technology: this could be an end user, manufacturer, supplier, service company, public or private stakeholder, investor, event organiser etc. We provide support, insight and expertise across the full spectrum of the drone industry, and the variety of applications and industries they traverse.
Story continues below
Advertisement
CDP: Where has Allan Panthera come from and what is the business background to where it is today?
JA: We were founded in 2018 by me, CEO Jamie Allan, a lawyer by trade who also holds an MSc in Management, Enterprise & Innovation, and I began my drone career as the Business Development Manager for industry pioneers Cyberhawk.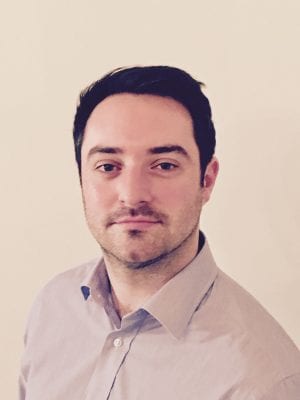 Prior to this I worked for FTSE engineering company IMI Plc in their oil & gas, power and nuclear sectors, growing the multi-million pound business by a further 325% as well as acting as their UK Compliance Champion. Over the years until establishing Allan Panthera, I single-handedly created a disruptive and HSE innovation award-winning drone inspection business, winning and project managing contracts with the likes of Equinor and SSE, and which achieved two world first projects on two continents.
After a period as Chief Sales Officer for NorSea Wind, demand from my network of contacts for my drone business expertise led to the creation of the company Allan Panthera.
We now have a footprint in our strategic markets of the Americas and EMEA (as well as operating elsewhere globally) and have worked with some of the most recognisable names in the drone world to position their business for success.
A lot of the work we do with drones is behind the scenes due to its strategic nature and the sensitive types of clients and applications our customers work with, so we aren't able to publicise our activity much, but 2020, despite COVID, has been our busiest year to date and we are looking forward to further significant projects in 2021.
CDP: How can it help drone businesses, large or small?
JA: Compared to many consultancies, we have 'been there and done it' when it comes to nearly every aspect of creating and operating a successful commercial drone business. So we really do know what our clients are going through and therefore no matter what they need help with, we have been through it, successfully overcome it, implemented it etc.
We take everything we've learned in drones, everything we've faced in business, all of the learning points and the remarkable successes, across the multitude of industries we've worked in, and provide a truly empathetic and tailored level of commercial support; our overall skillset as a package of support is quite rare to find in the market.
Additionally, amongst other unique advantages our business offers, we have special insight into drones used within the emergency services as I'm also a serving police officer with 5+ years' experience and have worked with INTERPOL on their recently published drone incident framework for first responders.
We're also the consultancy that other consultancies call upon; we have supported the likes of Deloitte, McKinsey & Co, and Oliver Wyman, which is a great vote of confidence in our expertise because we aspire to be as successful as those businesses are.
Crucial to remember, too, is that we are 100% independent – we don't have any commercial interests in any products or services or supplier marketplaces, and so we will always provide the most honest insights and advice.
In terms of specifics, please visit the Drones section of our website for a list of typical services we provide. If there is something you have in mind that isn't listed, we will do our best to support you ourselves or guide you to the right place based on our extensive global contacts.
CDP: How does the business operate when working directly with a client?
JA: We provide multi-disciplinary services with a single client level of attention, which basically means we are able to offer a full suite of services to a business and they aren't neglected or just another number; they are really focused on, supported and we can be available 24/7, and I believe it's really important they feel like that because that's what I would expect if I was a client.
JA: Practically though, it all depends on the type of engagement. We're able to conduct many tasks and work remotely (obviously important at the moment), however we can also be fairly embedded within organisations if desired and if its best for the project, such as a long term secondment or even providing retained services with guaranteed availability and all-encompassing support (just like a legal retainer).
As standard practice, we also offer a full business assessment at the start of any project.
Holistically, we operate under the fundamental principles of confidentiality, mutual trust and respect, and integrity – an asset we think is critical in the drone industry but absent from many players in the market. We have also created our Challange™ and Disrupterprise® philosophies which are for those businesses who really want to go the extra step and stand out from the crowd!
At all stages of engagement we'll make sure you are completely comfortable with the plan and that we are prepared to adapt together, as change will undoubtedly happen on a journey fuelled by innovation.
CDP: Which other markets do you work in and what crossover do you see with drones and UAVs?
JA: As a business, we provide a range of commercial services in core areas of the energy, marine, disruptive technology, legal and professional sport sectors. Of course, a lot of drone use crosses into these and therefore there can be some great synergies to exploit. However, there are also other sectors we are working in with drones including rail, island medical delivery, and military applications.
Crucially, we believe it is a strength that we have deep experience and knowledge across many sectors rather than one narrow niche; we can service our clients better, who tend to actually cross over into many industries (sometimes they are aware of this and sometimes we help show them other viable markets they can be successful in). Our clients also have many commercial needs, and the businesses which we aspire to be like have broad knowledge and capabilities, so it makes sense for us to be able to offer as much as we can in-house.
CDP: How do you see the market progressing in the next five years?
JA: That's a very big question with limited space to answer properly here! So I'll give a few short snippets of what we're seeing.
We expect to see significant consolidation as companies merge, go bust, and, importantly, pathways become clearer for some solutions which are more viable than others.
We think we'll see greater partnerships and growth between service companies and suppliers of hardware: many suppliers don't have the resources to service clients by also executing the work with their solutions; many service companies have capabilities to deliver services but don't have the resources to create the solutions they use; and end users don't want to own equipment which costs capital and may become quickly obsolete due to the pace of change.
More tactile utilisation of drones for tasks which will complement and replace personnel who currently do such tasks will further accelerate.
The necessary infrastructure for the next stage of the market's maturity will begin to be implemented, such as 'drone ports' and urban planning for the integration of UAS into our daily environment (aviation and town planning legislation dependent of course).
And one big interest of mine within the drone division I've been involved in over the last few years is resident systems, otherwise known as "drone in a box". I do think that a lot of what are currently regarded as traditional or linear BVLOS applications will have a certain "mini-disc" life span and will be superseded by the "MP3″ solution of resident UAS: those which basically live at or near the site/s they serve. A very exciting topic for a more in-depth discussion!
CDP: How will Allan Panthera progress with the market?
JA: We're in the process of taking on another 3 new members of staff in the coming months, and will be continuing to engage at the coalface with every cross section of the drone industry to ensure we're on top of the latest trends, markets and growth opportunities across the globe.
We'll continue to provide value through long term relationships as well as short term, high impact engagements, and I'm keen to increase the number of non-executive director positions I hold with those businesses who would benefit from my skillset, to give them particular focus.
As a business, at the moment, we've chosen not to be actively involved in the side of the things where we're shaping the law, policies and procedures from the top down; there is quite rightly a massive focus on 'collaboration', however, in many ways it is still very subjective in terms of who gets to collaborate in certain areas.
We've always preferred to fight for the underdog, and so we're more excited to be working from the ground up and directly with the innovators, as the more support they have, the more they can enable the rules they need to be successful to be implemented. As an advocate and voice of many clients I represent in negotiations, meetings, bids etc with all types of decision makers, I believe it's more powerful and easier to win hearts and minds when I've been part of the journey too and can speak from a shared experience.
There may come a time, though, where we cross over to the 'dark side', but we believe by then, having such a wealth of experience from the other side of the fence, will mean a much more empathetic and considered approach than only ever having a one sided experience.
But for the moment, there are a few clients who have some really exciting projects and technology launching in 2021, and we can't wait to see the chain reaction in the industry which will come from these market-first applications.